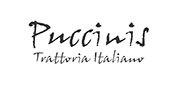 Puccini's Ristorante Italiano
Puccini's Ristorante Italiano in Shirley Road Southampton, provides traditional food made from the best Italian ingredients, served in a fantastic trattoria atmosphere.
Named after the famous Italian opera composer, the restaurant is bright, airy, bustling and offer a friendly Italian welcome. Enjoy alfresco dining in the outside terrace available during the summer months.
The Chefs are truly passionate about good food, with all the dishes freshly prepared in Puccini's famous open kitchen using the very best Italian ingredients. Puccini's also serve a great value range of Italian wines and beers, and is renowned for the special "eat for free" birthday menu.