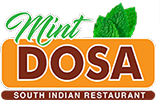 Mint Dosa
Mint Dosa Indian Restaurant, based in Southampton, is inspired by the simple yet multi-layered process of creating these dishes

Mint Dosa, Indian restaurant is known for its modern interpretation of classic dishes and its insistence on only using high quality fresh ingredients.

We invite you to celebrate our restaurant's delicious recipes whether you are here for a business lunch or dinner. Discover new tastes and inspired recipes from South India.